10 projects against migrant exploitation
ROME - 8 May 2018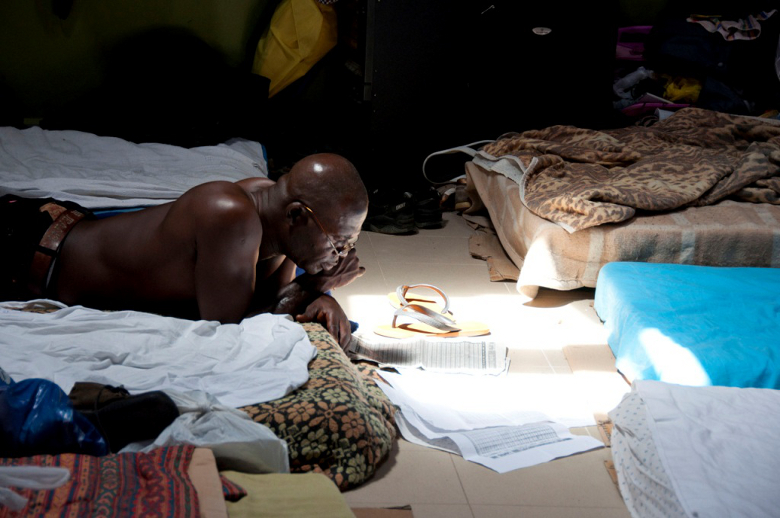 The initiatives will be supported with a total of 3.5 million euros assigned to projects against trafficking, sexual exploitation, and in favor of social and labor integration. 
The projects provide employment opportunities for young migrants in newly established enterprises for craft beer production, toy-making, and street food sales;  cultivation of medicinal plants for essential oils extraction; reception and first assistance for survivors of trafficking; training courses aimed at job placements; and community awareness-raising campaigns.
Ten projects have been selected by the CON IL SUD Foundation through the second edition of the "Immigration Call For Proposals", released in the previous months in support of labor integration and the fight against trafficking and sexual exploitation of migrants in the southern regions of Italy (Basilicata, Calabria, Campania, Puglia, Sardinia, and Sicily).
The initiatives, supported with a total of 3.5 million euros (an average of 350,000 euros per project), involve 109 organizations including associations, social cooperatives, consortia, public and ecclesiastical entities, voluntary organizations, and foundations.
Out of the ten selected projects, 2 will be dedicated to the fight against sex trafficking by shedding light on the phenomenon and by offering support to nearly 500 survivors of trafficking; and the other 8 will focus on social and labor integration of migrants, fostering employment of approximately 200 people either in already established or in newly established social enterprises. Over 1,000 migrants will participate in job orientation activities, and a number of them will have the opportunity to carry out traineeship in various companies.
With the first publication of the Immigration Initiative, issued in 2014, the CON IL SUD Foundation supported 13 projects and assigning a total of 3.7 million euros.
Background
In Italy, there are 5 million non-Italian permanent residents: we are, in fact, among the first 11 countries of the EU to receive the largest number of migrants. Almost 60% live in the North, 25.4% in Central Italy, 15.2% in the Southern regions, especially in Campania (28.6% of the total). These percentages, however, do not take into account undocumented migrants who, based on the most reliable estimates (updated and elaborated by the ISMU Foundation in its Annual Report on Migrations from 1 January 2016) would amount to nearly 435,000, which is 8% of the total percentage of regulated migrants.
In terms of employment, migrants are employed, as are Italians, mainly in the public and private services sector (29.8%), in the industry sector (18.4%), in the hospitality industry (10.9%), in construction (9.6%) and in commerce (8.3%). In sum, 77% of migrants are employed throughout all of these sectors. However, the salaries of migrants are 30% lower than those of Italians, especially for women, increasing the number of the so-called "poor workers[1]", who make up to 40% of the total number of employed foreign citizens. Generally speaking, being a foreigner exposes workers to greater risks of being employed in low-paid jobs, as migrants are not always sufficiently trained or specialized, and are in sectors where lower than average[2] salary levels prevail.
In addition to this, the fact emerges that sexual exploitation is often the most common destiny (68% of cases) awaiting migrant women, more and more of whom minors, involved in human[3] trafficking. In Italy, the phenomenon affects 50,000 to 70,000 women forced into prostitution and about 150,000 men, mostly young migrants, are being exploited in undeclared employment.
For further information on the subject, we recommend referring to the "Immigration and Work in Italy" study published on www.conmagazine.it an online magazine issued by the Foundation, with data, comments and above all stories and experiences of integration.
Below is a brief presentation of the projects that will be launched, broken down by region.
BASILICATA
In the province of Matera the "GRUYT" project will be launched (promoted by the Consortium of social cooperatives La Città Essenziale, with contribution from the Foundation of 360,000 euros). About 12 migrants leaving SPRAR (the Protection System for Asylum and Refugee Seekers) reception centres will participate in a training programme for craft beer production, with the start-up of a production plant inside a 300 square meters warehouse. The surrounding lands will be dedicated to the cultivation of herbs and spices used in the production.
CAMPANIA
The project "Libere tutte!" (promoted by Arci Salerno, the Foundation's contribution is 370,000 euros), will be implemented in 25 municipalities in Campania. Starting from the first reception center, victims of sex trafficking will be identified and reached by the project team composed of 5 outreach workers and 5 cultural mediators. First assistance services will be provided to ensure regulation and specialized legal, health or social support. Furthermore, the project offers social integration funds (for linguistic and digital literacy, civil and legal assistance, obtaining driving licenses or attending cultural workshops) and employment integration funds where associations and companies will collaboratively undertake to promote training and professional integration courses tailored to survivors of trafficking.
In the provinces of Benevento and Avellino the project "I Piccoli Comuni del Welcome" will begin (promoted by the social cooperative Il Melograno Onlus, contribution of the Foundation is 370,000 euros), which will provide training for up to 100 migrants and the establishment of 10 community cooperatives engaged in local services and active in social agriculture, tourism, crafts, maintenance services and local welfare. In addition, the project foresees cultural activities, awareness-raising, and involvement of the migrant community.
PUGLIA
In the province of Lecce, the "Food Truck" project will be launched (promoted by the Associazione Culturale Agenzia Formativa Ulisse, the Foundation's contribution is 285,000 euros) to encourage job placement for migrants in the street food sector. Approximately 18 migrants will follow a professional course for cooks, and some of them will be involved in the establishment of a social cooperative specialized in street food through the use of two food trucks, to sell products in the regions of southern Italy at trade fairs, events, and celebrations. Particular attention will be paid to the making of the menus, with an emphasis on the use of local products and 'flavors' from the countries the migrants come from.
The project "Amaranta – Fuori dalla tratta" (promoted by the Micaela Onlus Association, Foundation's contribution is 380,000 euros), which will be implemented in Bari, in a villa confiscated from the mafia, plans to create a Drop House, a daytime center for migrant women forced into prostitution. The center will offer healthcare services, counselling, support, and assistance.
Furthermore the project foresees to strengthen the mobile service units by using different ways of contact with the victims of sex trade (via chat – Viber, Whatsapp, Line—a secure information hotline), to offer workshops for the social and labor integration of women already living in public housing, to provide up to 15 traineeship in ethnic food and home catering, and to carry out an awareness-raising campaign combating prostitution.
SARDINIA
"Artemisia" is a project which will commence in the province of Sassari (promoted by the social cooperative La Luna, the Foundation's contribution is 310,000 euros), and will engage about 10 migrants in a training course on the cultivation and processing of medicinal plants. As a result, a new social cooperative Artemisia will be set up, which will deal with plant cultivation (helichrysum, lavender, and rosemary) and the production of corresponding essential oils for the cosmetic industry. The project further plans a creation of a social label certified by the CNR (The National Research Council).
SICILIA
In Palermo the project "In gioco" (promoted by the SEND Association, the Foundation's contribution is 365,000 euros), will set out and offer training to about 15 migrants, 4 of whom will work as "peer-to-peer" counselors in a mobile outreach team that will provide up to 1000 migrants with an opportunity to partake in orientation and empowerment activities. Some of the beneficiaries will be involved in workshops and traineeships. At the same time, the project also plans to start a social enterprise, 'Giocherenda', where about 9 migrants leaving the reception system, after an initial training phase, will be able to redesign their future and use creativity in the production and sale of handmade toys, accompanied by art and storytelling workshops.
Palermo again, will be the place to implement another project titled "Voci del Verbo Viaggiare – Accoglienza Mediterranea" (promoted by the Centro Astalli Palermo, contribution of the Foundation is 300,000 euros), which aims to create a social start-up in the experiential tourism sector, favoring social-working integration of young people, migrants and local residents, between 18 and 35 years of age. Initially they will be involved in mentoring and training activities on entrepreneurial management, with a possibility for employment grants. Further, the project plans establishment of a start-up and an onset of the incubation phase at CREZI+, an incubator for creative enterprises within the Zisa Cultural Sites. The newly-formed company will offer "mediterranean hospitality" products and services: management of tourist accommodation, experiential tours, intercultural catering services, a soup kitchen, home cooking, narrative dinners and multimedia exhibits related to the creation of a Museo Diffuso delle Migrazioni. Migrants and local residents will work closely together and their stories will become the lever of attraction for experiential tourism.
INTERREGIONAL PROJECTS
CALABRIA, CAMPANIA, PUGLIA
In the provinces of Naples, Caserta, Cosenza, and Foggia, the project "Agrisocial Street Food" will be introduced (promoted by the Consortium of social cooperatives Co.Re., the Foundation's contribution is 380,000 euros), which plans to develop, within the Co.Re Consortium, a new branch of enterprise that will allow, after training and traineeship, the recruitment of 6 migrants, 2 for each of the 3 participating regions, who will manage "street food", marketing of local products and agri-food chains, and create a line of ethnic products.
CALABRIA, CAMPANIA, PUGLIA, SICILY
The project "Fare sistema oltre l'accoglienza" (promoted by the social cooperative Formazione e Comunione, contribution of the Foundation is 380,000 euros), which will be implemented in the provinces of Caserta, Foggia, Bari, Cosenza, and Ragusa plans to include about 14 young migrants in training programmes and further employment possibility with a fixed-term contracts. Another 6 participants will be involved, as worker-members, in the launch of a new social cooperative in Caserta, engaged in the field of environmental services.
[1] Being a "poor worker" means having a salary of less than 2/3 of the median wage calculated on an hourly basis.
[2] Source: Caritas and Migrants. XXV 2015 Immigration Report. Elaboration on Istat data.
[3] Data from the European Parliament Resolution "Sexual exploitation and prostitution and its impact on gender equality" on 26 February 2014.