A mural for Parco Verde, Caivano
1 June 2023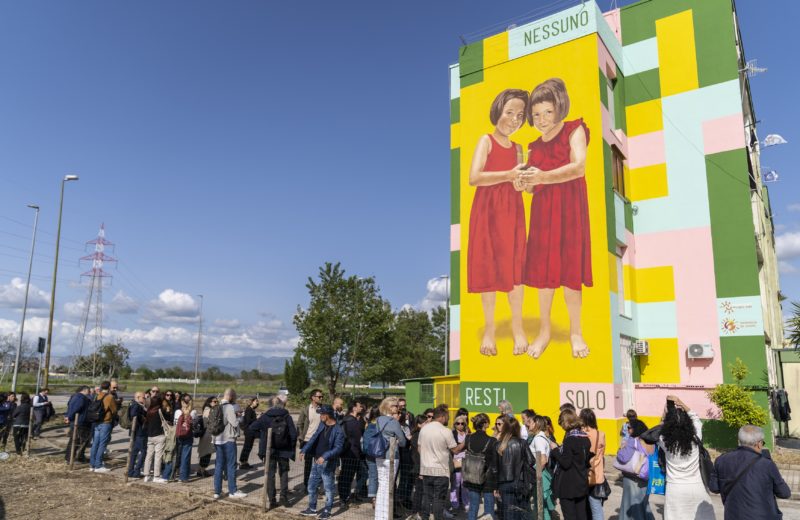 "A fragile sprout, if treated with care, is destined to become a tree with strong roots and sturdy branches."
This is the concept behind the mural "Nessuno Resti Solo" created by Palermitan artist Igor Scalisi Palminteri, which was unveiled Tuesday, 9 of May, in Parco Verde, Caivano, in the province of Naples.
The work was commissioned by Fondazione Con il Sud and donated to the community of Parco Verde Caivano as part of the event "With the South, a future already seen," which will take place on Friday, 12May.
The inauguration took place in the presence of the artist, together with the Mayor of Caivano, Enzo Falco, the President of Fondazione Con il Sud Carlo Borgomeo, alongside the President-designate Stefano Consiglio, and Bruno Mazza the representative of the association "Un'Infanzia da Vivere" ("A childhood to Live").
"This beautiful artwork is a sign of the great bet we are to change this neighbourhood making together with the associations and the municipal administration." stressed Carlo Borgomeo, President of Fondazione Con il Sud. "Beauty is an indispensable tool to defeat degradation and to create community pathways."
"Children powerfully represent the need for care that human beings have: when you take care of a place, you take care of the people who live there." As the artist Igor Scalisi Palminteri noted. "The Parco Verde in Caivano is my home because it is like Sperone, like the fragile places in my city, Palermo, where there are stories of people who have encountered pain and who need beauty. Beauty that is fundamental in these places that have an incredible human potential that needs to be enhanced."
Watch the video: