Amaranta, a Day Center for Survivors of Human Trafficking
30 November 2022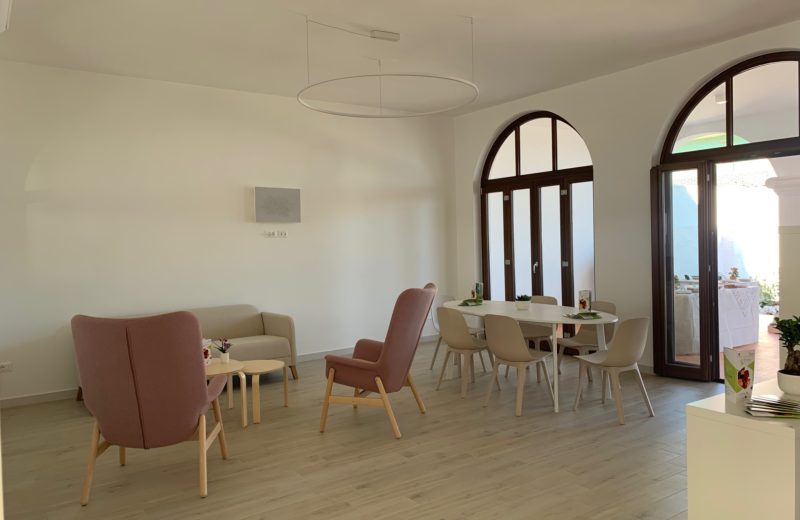 A villa confiscated from the Capriati mafia clan, in Bari, is now the first day center for women survivors of human trafficking, and it will be a place for psychological support, gathering, training, and work reintegration. The center is promoted by the social cooperative C.A.P.S. and the Micaela Onlus association in partnership with the social cooperative ARTES, the cultural association Origens and with the support of the Municipality of Bari.
The 600 square meters structure overlooks the sea, and in 2009 was granted by the City of Bari to C.A.P.S. with the aim to be socially repurposed. After a complex administrative process, which lasted for years, about the violations of building regulations found in the villa, this mafia-confiscated property underwent a major renovation and a functional reconversion. All of this was made possible through the Call for Proposals  "Immigration Initiative 2017" and financed by the CON IL SUD Foundation.
The renovation covered the entire building, including the outdoor areas. It transformed a place that once belonged to a local clan into a welcoming and modern center, equipped with two offices, a multipurpose room, sanitary facilities, a warehouse, and an outdoor porch overlooking a large green area with walking pathways.
"Amaranta" is supported by the CON IL SUD Foundation, and it is promoted by a partnership that has decades of experience on the issue of exiting human trafficking. The idea is to bring to safety women who want to escape their situation of exploitation and violence, by offering a safety plan, intake, training, and job placement in the catering and hospitality industry.
The renovation expenses of the confiscated property and the start-up of the activities amount to about 500,000 euros. From which, 380,000 euros were financed by the CON IL SUD Foundation; 100,000 euros through co-financing by the partnership subjects; and 20,000 euros were financed by the Department for Equal Opportunities of the Presidency of the Council of Ministers, as part of the aid projects for survivors of trafficking, where the Puglia Region is a leading partner. 
"Enhancing the value of an asset confiscated from organized crime is not only a symbolic, albeit very important act of the State's fight against mafia power, but it is also a concrete act of recovery for the entire community," commented Carlo Borgomeo, President of the CON IL SUD Foundation. "Indeed, with this project, the denied rights are being restored, and new opportunities for social inclusion of women survivors of trafficking are being created. We are in the midst of a more general path for 'change' in the South, promoted by the Foundation together with seven thousand organizations including the third sector, institutions, and individuals involved in the projects. We have enhanced the value of about a hundred confiscated properties in the southern regions, but there are thousands still to be assigned, for some, we do not even know where they are nor in which condition; however, there are many opportunities for recovery through paths of inclusion and social economy that, as we have seen in so many cases, represent, for all intents and purposes, an opportunity for local development. The Foundation is committed to promoting a thorough revision of the system of valorization and management of confiscated properties, so that there will be more and more projects that, by offering service to the region, by creating work opportunities and repossession would represent a real challenge to the criminal, economic, and symbolic power of the mafias."