What does social and health care truly mean?
5 July 2023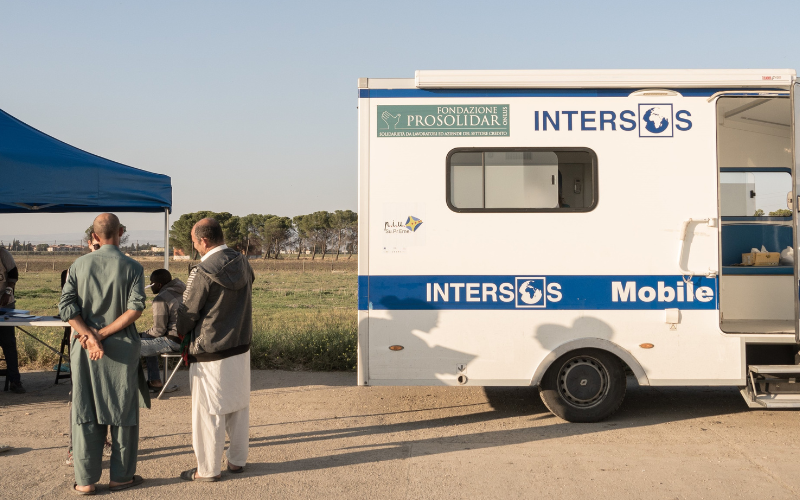 Ibrahim is from the Gambia. For ten of his 35 years, he has lived here, in Italy. He came to our country hoping to build a better future for himself and that of his family, who remained in his homeland. Ibrahim came to the Foggia area to look for work in search of a better future. For the past three years, he has been living along the so-called Borgo Mezzanone trail, the informal settlement halfway between Foggia and Manfredonia. Like most migrants living in the ghetto, Ibrahim found work as a farm labourer. He works on a casual basis and without a contract. But around here, more often than not, it is the only way to survive, to make a living, and to make his migration journey worthwhile. Ibrahim showed up at the INTERSOS medical clinic, which has been providing social and health care services in Capitanata since the beginning of 2018 and has been supporting the health of migrants living under severe conditions of exploitation and precarious housing.
He had suffered a minor wrist injury while working. It was important to talk to the INTERSOS operators because his need for medical assistance concealed a deeper, more urgent need. For this reason, he was put into the care of Medtraining and the operators of ASGI. The two are INTERSOS partners in the project funded by the CON IL SUD Foundation, called "Social and health proximity services for the informal settlements in the province of Foggia and the promotion of good practices in local institutions." Ibrahim was not only treated for his physical injury but also psychologically, as he began to recover from complex and various issues that only emerged long after the first medical assessment. In addition to these activities, through this project, Medtraining has the opportunity to work on exposing underlying social vulnerability.
"It's not always easy to get people to understand our service because we don't only provide a single service or specific professional assistance. But we deal with complex situations that call for multisectoral and multidisciplinary solutions that often can't be addressed in one medical appointment, as in the case of Ibrahim, for example," notes Concetta Notarangelo, a Medtraining outreach worker with the project. "It's not like we are lawyers or doctors with a permanent front desk. Our work in the settlements means doing 'outreach' activities, which entails going inside places to build relationships that may expose underlying social vulnerability." It is essential to build a trusting relationship with migrants who live within the informal settlements (former Borgo Mezzanone Runway, former Factory, Palmori and Poggio Imperiale) to initiate collaboration and processes of inclusion. Even in Ibrahim's case, the goal is to closely follow his situation and make him part of an integration and hospitality project. This process is made possible in part thanks to the valuable collaboration between the three participating organizations in the project.
"As part of the project, the INTERSOS mobile clinic is a fixed place, a facility, a recognized service, that provides an 'upgrade' to our services because it gives us a physical space that connects to our 'outreach' activities,'" adds Notarangelo. "Finally, we should keep in mind that people are free to decide for themselves, sometimes even making choices that may not be acceptable. We must remember that their needs remain, and we cannot insist on other choices that we would perhaps make, as we don't know deep down what the phrase 'if I were in your shoes' means," concludes the Medtraining outreach worker.
An excerpt from the project's blog "Social and health proximity services for the informal settlements in the province of Foggia and the promotion of good practices in local institutions." at www.esperienzeconilsud.it.